Covid is worse than the distant aunt who isn't happy with where she is seated or the uncle who secretly wants to be a photographer or the cousin who gets very drunk and makes a very big fool of themselves all put together.  We have had Covid 19 highlight our news headlines and be the first topic of conversation for over a year now.  We have been in lockdown, then out again, then in again and so forth.  I am not sure about you but I am sick of it already.  I am dying to get out and have a "normal" wedding shoot.  I haven't photographed a wedding in over a year now, they have all moved to this year or next year.  I miss them so much.  I miss having couples call to the studio a week before the day and our only unpredictable issue being the weather.  I miss seeing all of the guests in all of their finery throughout the day.  I miss watching a couple go through a wave of emotions, from nerves, to excitement to pure enjoyment and relaxation around all of their friends and family.
When I see a couple sitting quite nervous in my studio a week before their wedding and I ask why the same response comes out.  They are worried they have forgotten something or it won't go to plan.  My answer is always the same.  All you need to have a wedding is the couple, a celebrant and witnesses (and sometimes rings but that's a blog on itself).  Covid stripped weddings right back to nearly this scenario and when I speak to brides who have had a Covid restricted wedding they say they loved it.  They understood the guidelines and why the rues were in place but they all had the same answer.  They just wanted to get married.  Yes you won't have all of your original planned guests or even a reception at all but you are still getting the best of the day.  The way I like to see it as, is that you can definitely get another day out of your dress when you do get to have a reception with everyone.
Lets get down to the nitty-gritty.
What restrictions will be in place on your day?  To be honest I can't answer that, nor do I think the lot on the hill can either or their scientists.  Your first protocol is to consult yourselves and decide would you prefer to move the date or sit it out and follow any guidelines given.  Once a decision is made you then contact your church or registrar to discuss the options with them, second is your venue to again discuss the options.  If changes to the date or the day have been made it is advisable to contact all of your other suppliers.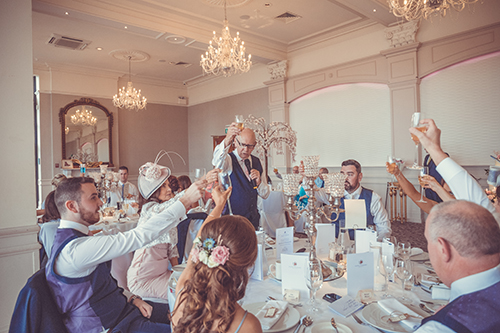 What if you change dates?  As said above follow the list and you may have to go back and forth between calls and emails until you get a clear decision.  I always recommend couples get at least 3 free dates from the celebrant and reception before contacting suppliers so you can find a date to suit all or most of the suppliers.  Unfortunately time is of the essence as dates do fill up fast with all of these weddings rolling on to the next year so if you have a specific date then if possible get it temporarily reserved with all of the suppliers to allow you time to decide either way.
Will suppliers or venues charge me extra?  In my own personal opinion I don't believe it should be the case as we are trying to all build our economy again, people are struggling as it is and I don't find it fair when most have already saved and budgeted for the original price.  There are many circumstances and debates about the costs and each supplier will have to calculate it all in relation to their business, so I can understand if some may have to have an extra charge for changes of dates.  It is best to just pull that plaster off and ring or email and ask each supplier you have.
Has Covid restrictions affected the photography of a wedding day?  I haven't had a wedding yet in the restrictions but when talking with other photographers they have said that it has.  Firstly bridal prep is compromised as there has always been either a limit to the people in one room or even a blanket denial of having this possible.  At the ceremony photographers are having to negotiate taped up pews, masks on faces and the 2 metre distance rule.  This gives us new boundaries to have to overcome but it also allows us to view these weddings as historically unique.  Have you ever seen the photographs of the weddings during war time with everyone wearing gas masks but in their finest wedding clothes.  Its different, historic and beautiful at the same time.  Everyone loves a group photo but with limited guests and the 2 metre space rule, couples are not as keen to what the photograph.  During the lockdown periods (like right now) the hotels are not open so there are no receptions and so we can't photograph speeches or dancing or guests mingling as it is just non-existent.  Although one part which hasn't changed in the slightest are the private intimate photographs or the couple.  They are the one time they can naturally relax and enjoy no rules, no restrictions, just the two of them…and the photographer of course.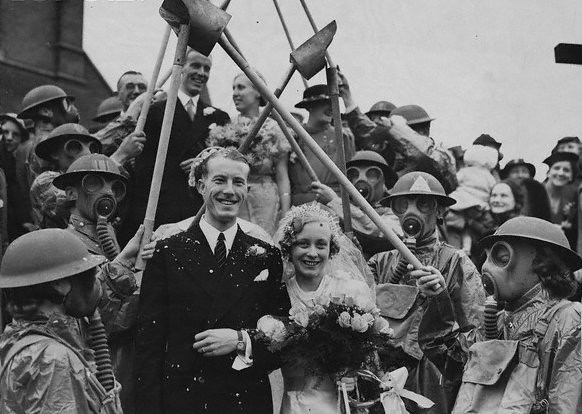 Reference: www.flickr.com, hastingsgraham, 1932
All the very best with the wedding planning and I for one will be glad to get back into the swing of things eventually…And remember each couple is different so whatever anyone else might be doing, of course listen to their choice, but in the end make the choice between you both to suit your own personal needs and wants for your day.